Book reviews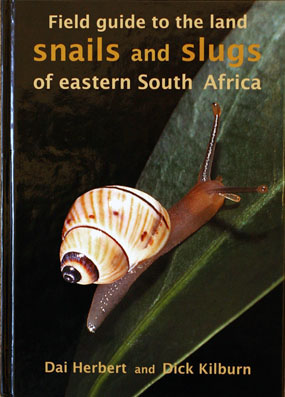 Herbert D, Kilburn D. 2004. Field Guide to the land snails and slugs of eastern South Africa. Natal Museum. 336 pp.
This book is dedicated to snails and slugs of eastern part of South Africa and presents comprehensive list of all known species of this area.
Book is separated into several parts. In first chapter reader is introduced in snails biology. In next two chapters is described geology, climate, vegetation and biogeography of the area. Authors are later describing degree of species protection and guide us through history of snails research of this area in the first place.
Eight chapter describes different methods of collecting and preservation of snails and their parts. Later is described how to use this field - guide and how to orient in the snail taxonomy.
Tenth chapter (most extensive) introduce us all 284 species of this area. Each species includes visual description, distribution, biology, if is something known about it and eventual problems with identification or similarity with other species. Photographs of shell and eventually alive specimen and map of distribution with locality findings are not missing. General information about families (together 37 families) and description of nonindigenous species are also added.
From family Achatinidae authors describe 17 species for this area and are using older taxonomy. Species are not classified into Cochlitoma and Lissachatina genus but into somewhere old classification into Achatina and Archachatina genus.
Last two chapters introduce reader into snails farming on examples of Helix aspersa and Lissachatina fulica and later in methods of control snails and slugs as pests.
Book is compiled on very high level and it shouldn´t miss in any bookcase of persons interested in land snails and slugs.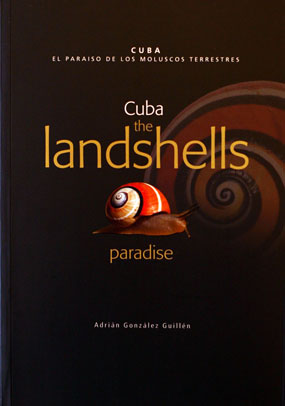 Guillén AG. 2008. Cuba - The Landshells Paradise. Greta Editores. 305 pp.
Cuba is with approximately 1400 species of landsnails island with their biggest diversity. Publication is because of so many species more introduction to many species and forms of landsnails of this island. This book is excellent for many very good photographs of alive snails.
Book is written in English and Spanish. Texts are brief and publication is more picture guide. It is devided into nine chapters in which author describes different biotops of Cuba and snails present in each of them. Factual description of species are missing. Two chapters are dedicated exclusively to genus Liguus and Polymita, which are the most famous, variable and endangered genus on Cuba.
First chapter describes landsnails biology. Next chapter is dedicated to snails predators and later to species protection.
Book includes also tables witch pictures of shells of the most important species of Cuba. Especially members of genus Liguus and Polymita are presented in many specimens of different coloured forms.
Book is also good choice for amateurs interested in nature because of beautiful photographs and general text.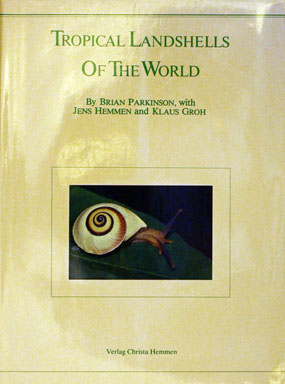 Parkinson B, Hemmen J, Groh K. 1987. Tropical Landshells of the World. Verlag Christa Hemmen. 279 pp.